Like most folks my age, we grew up laying in bed late at night listening to our transistor radio. We were picking up radio waves bouncing off the earth's ionosphere back down to our imaginative minds. As teens we cruised the main drag listening to local DJs, or pulling in Big City disc jockeys broadcasting from stations like WLS-AM Chicago, WSM-AM Nashville, KCMO-AM Kansas City, WWL-AM New Orleans, to name a few. For me, it was Wolfman Jack playing Rhythm & Blues on XERF-AM the Mexican radio flamethrower with a signal that reached across the Northern Hemisphere, if the weather was "just right."
Dan Acree
Weekend Rewind's Producer and Host
Growing up in Oklahoma in the early '60s Dan Acree was already on a career path by age 13. Influenced by both local, and legendary radio disc jockeys like Wolfman Jack and Dick Biondi he was drawn to the idea that even a shy kid could connect with people from the safety of a studio microphone.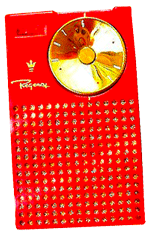 By the time he was 13 Dan was hanging out at the local radio station, doing Coke runs for the DJ (Coca Cola! Hey, this was the '60s, not the '80s), filing records, and constantly begging, "Please, when can I get on the air?" In the end, he got his wish—a 2-hour Saturday night request show called "Teen Beat" —when he convinced the local Coca-Cola bottler to sponsor the show.
Headed Northwest
At age 15, his family moved to Walla Walla, Washington. On his first day in the new town, he visited the local radio station (KTEL-AM). As he got to know the DJs he would visit for hours in the studio while his mom would sit outside in the car in the winter cold, for hours.
Eventually, he connected with the high school (Wa-Hi) radio club and helped choose the music. His budget allowed for the purchase of just 2-each 45's weekly, so he had to make decisions.
One week he choose the #44 over #45 charted song of the new singles out that week from the Billboard Hot 100 music chart. He felt confident that Steve Lawrence and Eydie Gorme's "I Can't Stop Talking About You" would be a hit. It wasn't. He left behind the #45 debut of "I Wanna Hold Your Hand," The Beatles' American debut.
From Snowy Mountains to Sandy Beaches
July 1965 the family followed a job to Southern California. The summer before his high school Junior year, Dan mapped out every radio station in the Los Angeles area. There was a lot to find and visit.
It took until fall before he managed to get past the lobby. But, eventually, he got noticed by one of the radio personalities and was invited into the studio at KMPC-AM. That began a decades-long association with the legendary radio and television personality Gary Owens.
Gary's support and connections led Dan to his first paid professional gig doing overnights at KFOX-AM (Long Beach) the top-rated country station in Los Angeles. At age 17, he was one of the youngest major-market disk jockeys in the nation. Then, Uncle Sam called in 1968.
A Trip to Texas Paid for by Uncle Sam
After a two-year stint in the U.S. Army, Dan signed up with a local radio station (KTON-AM/FM) and did the late shift, then moved to mornings. He eventually moved across town to a competitor (KIXS-FM) as program director and morning show host where he was innovating Top-40 on FM. He eventually spent a decade in Central Texas.
Back to the West Coast
A chance meeting while on a 1978 vacation back home in Los Angeles offered an unimaginable opportunity. Using a connection made years earlier, Dan was hired as VP Marketing and Promotion for Audio Stimulation, a thriving radio syndication company owned by Wolfman Jack with his partner and personal manager Don Kelley. The circle was complete from when Wolfman Jack was bouncing off the ionosphere down to a transistor radio in Okmulgee, Oklahoma, to Wolfman's Hollywood lair.
The Hollywood Years
Your personal network is everything. With the mentorship of Don Kelley, Dan established an entertainment public relations firm and went on to represent a number of Top 10 recording artists, television and film actors, entertainment companies, and major events.
In 1985 he sold his company to Solters/Roskin & Friedman one of the largest entertainment public relations firms in the industry and joined the team that managed the Grammy Awards telecast and the Miss Universe, Miss USA, and Miss Teen USA pageants telecast.
One of Dan's favorite clients was an emerging star on Los Angeles radio. Rick Dees was building an empire at Gannett's KIIS-FM and Dan Acree was along for the ride. Eventually, Dan left Solters/Roskin & Friedman to become Director of Marketing for Gannett's legendary KIIS-FM. He was back in radio, his first love.
Change is Inevitable
Dan left Gannett in 1987 to join Dees in a new venture. It looked like a great opportunity at the time. Two months later, the deal fell apart and the decade-long Hollywood run was at an end.
With major-market credentials in hand, Dan moved to the San Francisco Bay Area as Marketing & Promotion Director for a small 8-station group. Two years later that led to an invitation to join KSFO-AM and KYA-FM in the same capacity—and back to the big leagues. KSFO was the home station for the Oakland A's and KYA-FM had legendary ties to one of San Francisco's heritage Top-40 stations. Two years later, the stations were sold and the entire staff was on the streets.
Return to Texas
Texas was a familiar place to look for the next gig. In 1994, Dan found himself in Houston expecting to end up back on radio in some way. Instead, he established a small advertising agency and grew it to success over the next few years. The agency did collateral design and print advertising work for Compaq Computer, and specialized in hi-tech and software companies. Then came 1999 when the tech bubble burst. Moving on. Does it seem there's a pattern here?
Headed North
Arriving in Texoma (in North Texas near the Oklahoma border) a chance meeting helped start a new agency in Sherman, Texas. An independent, regional bank was looking for a new advertising agency and a match was made that lasted several years. Acree Creative established itself as a respected agency in the market, and thrived.
One of the agency's clients wanted to publish a city magazine in 2005. That led to the development of Texoma Living! Magazine and the publication of 20 issues over four years. It remains the project of which Dan is most proud.
Now in semi-retirement, Dan still spends time in his home studio working on projects for radio stations around the world. He also consults with his nephew's company, works on projects that interest him, and is engaged in supporting local charities that benefit seniors and families.